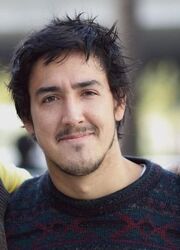 Daniel Ilabaca (born 23 January, 1988) is known as the Godfather of Parkour and Freerunning. A British freerunner, Traceur, and martial artist. He, along with Ryan Doyle, founded the World Freerunning and Parkour Federation (WFPF).
Career
[
]
He began his career in martial arts, practicing Capoeira and Monkey Kung Fu. He soon wanted to expand his limits and took up Parkour and Freerunning. A very talented individual, he is known for his graceful movements aside from his innovation and creativity. Having created moves such as the kong gainer which he landed on his first attempt. A pioneer of modern parkour, he pushed the boundaries of the parkour to heights beyond his time, with mastery over a broad range of techniques that have been unattempted or not learnt at his level till date.
Personal life
[
]
Ilabaca is Christian. He is also a fan of Marvel comics.
Quotes
[
]
"If you're afraid to fall, you fall because you're afraid. Everything is a choice."