Obi-Wan Finale - The Loop
Play Sound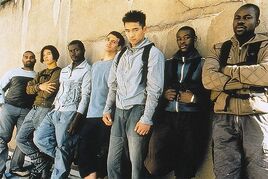 The Yamakasi
were a group from France who were practitioners of l'art du déplacement, and pioneers of Parkour and Freerunning.Yamakasi is also a name of a French film from 2001 written by Luc Besson, which starred the members of the Yamakasi, and a documentary, called Génération Yamakasi.Yamakasi is also a term used by Traceurs and Freerunners to describe a style and method of training that involves the traditional training of l'art du déplacement, before the Parkour / Freerunning split.

The word yamakasi is taken from the Lingala language, which is spoken in Central Africa. Ya makási can mean "strong body", "strong spirit", or "strong person."
History
[
]
In 1997, David Belle, Sébastien Foucan, Laurent Piemontesi, Yann Hnautra, Charles Perrière, Malik Diouf, Guylain N'Guba-Boyeke, Châu Belle-Dinh, and Williams Belle created the group called Yamakasi. Belle and Foucan would split from the group due to a mixed view of the core meanings of l'art du déplacement. The two Yamakasi filmed would be made without the help of both David Belle and Sébastien Foucan. The group continued to expand their skills and helped to pass them on to others, allowing Parkour to spread from their home towns, to the rest of France, and later the world.